A Stoic Opportunity
Tomorrow's event:
Deconstructing Yourself w/ Michael Taft. October 6th @ 12:00 PM ET. RSVP here.

Concept Unfolding w/ Nicolas Benjamin. October 6th @ 6:30 PM ET. RSVP here.

Internet Identity and Our Digital Selves w/ Kaliya Young (Identity Woman). October 6th @ 8:00 PM ET. RSVP here.
An event to get excited about:
How Feeling Beliefs May Be Sabotaging Your Entrepreneurial Success w/ Doug Tataryn. October 7th @ 12:00 PM ET. RSVP by clicking the image below.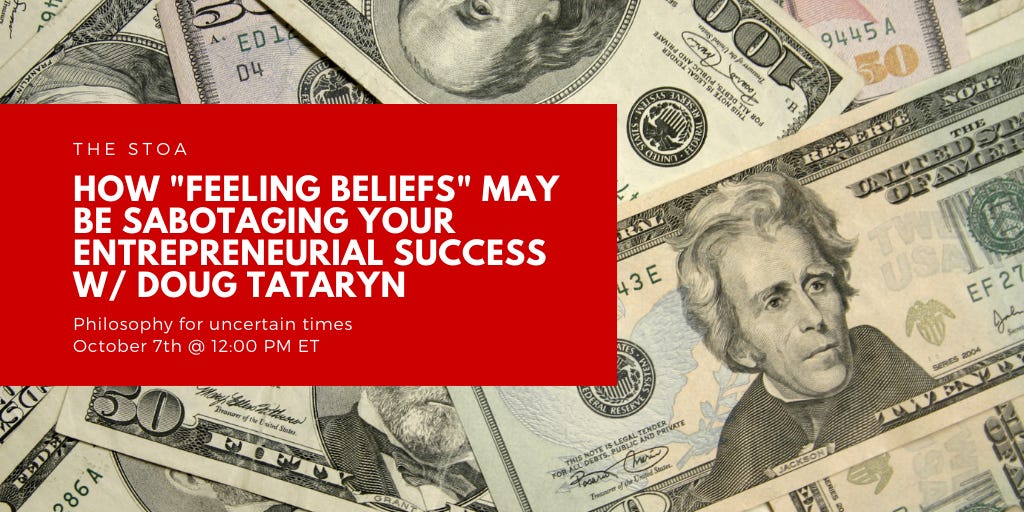 Doug Tataryn returns to The Stoa to deliver a special workout on how our emotional relationships (or "feeling beliefs") influence and sabotage our entrepreneurial success.
***
October 5, 2020
I am feeling better this morning. I am strong in the body again, and I am feeling that thumos again. 
I received something strange and unsettling in my inbox last night. I do not want to write too much about this situation, and hopefully it does not escalate. Somebody who has a proclivity to burn his bridges, sent me an unlisted video where he "critiques" me. 
This critique seems to boil down to me being friends with people he does not like, and how I do not talk or listen to him enough. The email also felt like a threat: talk to me, and invite me to The Stoa, or I will release this video or others like it. It is not wise to appease threats like these, because it rewards bad behaviour, and that would promote bad behaviour in the future, towards others and myself. 
I do not feel "threatened" at the thought of him releasing the video, or videos like this. My preferred indifferent is that he does not. It would make him look terrible for starters, as he does some pretty weird stuff, plus he insults many people in the video.
I responded as firmly and lovingly as I could. There is a part of me that is annoyed that my focus has to turn to things like this. Of course, there is a Stoic reframe for everything, so I took this as an opportunity for practice, and actually became oddly grateful for such an opportunity. Yep, Stoics are weird.
In the Meditations, Marcus Aurelius mentioned: Begin each day by telling yourself: today I shall be meeting with interference, ingratitude, insolence, disloyalty, ill-will, and selfishness – all of them due to the offenders' ignorance of what is good or evil.
The Stoa will surely be visited by energy vampires, conversational narcissists, sociopaths, people with messiah complexes that are untethered from reality, dudebro assholes who lack any social discernment, trolls from reactionary tribes, and memetic extortionists from woke tribes.
All of these people will require different approaches, and all of this falls into the "invisible work" of being a steward to a digital campfire. I can approach this as a burden, or I can approach this as a part of my Stoic practice. Doing the latter makes it somewhat exciting actually.
The trick is to maintain a loving Stoicism when dealing with these hungry ghosts. They can smell weakness, and they look for chinks in your armor. They want to trigger you, because if they trigger you, they can hook you, and if they can hook you, they can manipulate you. Luckily for me, my default is to rush to my Stoicism when I sense I am in the presence of a hungry ghost.
I think the wisest approach here is this: become Stoically untriggerable, which affords me not to respond with negative emotions, and allows me to fill myself up with loving-kindness towards the person instead. With a clear heart, rationally determine what is the approach that would prevent the potential harm this person could cause to me, and to the people and things I am responsible for, ideally without harming them in return. It is also important to do this in a way that requires the least amount of energy and focus, in order to protect myself, and my access to the daemon.
Of course, this is way easier to write than it is to do. This is why I am grateful for this person's email last night, because it has given me the opportunity to practice.
***
www.patreon.com/the_stoa