Argus-Eyed to Hungry Ghosts
Tomorrow's events:
Newly posted events:
Depolarising Conversations w/ Richard D. Bartlett and Ronan Harrington. September 15th @ 10:00 AM. RSVP here.

How to Be an Anarchist w/ Glenn Wallis. September 22nd @ 8:00 PM ET. RSVP here.

Sex, Masculinity, and God w/ Cadell Last, Kevin Orosz & Daniel Dick. September 30th @ 10:30 AM ET. RSVP here.
An event to get excited about:
The Dark Stoa: Weaponized Witches w/ Patrick Ryan. October 30th @ 8:30 PM ET. RSVP by clicking the image below.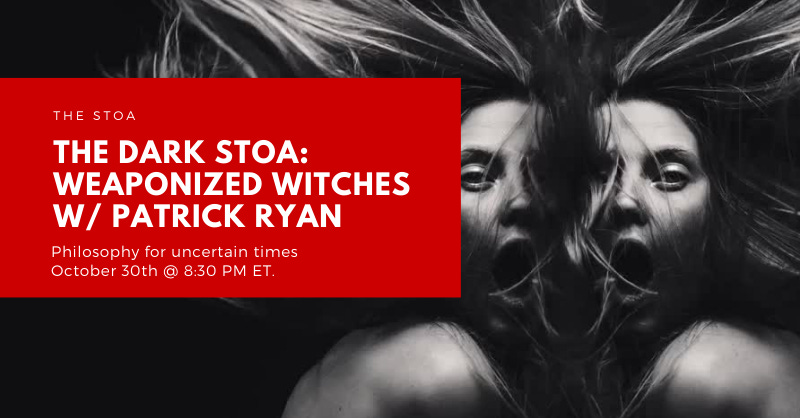 Pat Ryan, the most dangerous man on the internet, returns for a one-off Dark Stoa Halloween special. If you missed the wild ride that was the Dark Stoa, you can watch season 1 here and season 2 here.
***
September 10, 2020
My good friend Andrew Taggart emailed me this a few months ago: At some point (alas), you'll get some people at The Stoa who will be "hungry ghosts" or they'll stir up some trouble. When something is sweet, tender, and beautiful in this world, one must be very careful, discerning, and a bit lucky lest others, perhaps accidentally, threaten its existence.
In Eastern traditions, hungry ghosts are spirits of the departed who are cursed with an insatiable hunger because of terrible deeds they did when they were alive. They reside in shadowy places, and prey on the living, especially those who are weak and vulnerable. 
Andrew was using this metaphorically to describe a certain type of people who are "living" amongst us. Another term is "psychic vampires," also known as energy or emotional vampires. These are individuals that "suck your energy," and leave you feeling drained, after interacting with them. True to the vampire archetype, after the sucking, they will soon need another feeding. 
To use DSM speak, these are "Cluster B" individuals, and there seems to be a whole cottage industry on the internet around spotting narcissists and sociopaths. I sense I have a good intuition to spot people like this, but I get skeptical when people tell me they have good intuition about people, so I am going to be skeptical with my own intuitive confidence.
The ghost and vampire metaphors are apt. Ghosts can be invisible, and vampires can be deceivingly charming. By design they obfuscate their true nature, like any good predator, so they can catch their prey unsuspected. I imagine there is a spectrum of sophistication here, some can be obviously spotted, and others hide behind layers of polished behaviour.
I still follow the "Hemingway heuristic" but I do so in such a way that trusting other people is more revealing than blinding. "Guarded openness" is a term I learnt from John Arquilla and David Ronfeldt. It describes a foreign-policy defense strategy where the nation-state remains open, but has mechanisms in place to ameliorate the risks that come with being open. I will apply this principle while stewarding The Stoa.
It is easy to be in a Pollyanna state, especially at this early stage. There are so many awesome people who come to The Stoa, who are earnest about co-creating a new world. They are good-willed, and desire to help. I receive genuine and heart-felt compliments daily, about how they think this place is awesome, and how it has positively affected their lives. A recency bias can occur with all of this, where you start thinking this will always be the case.
I am a Stoic and Stoics do their negative visualizations. This Stoic Daddy is protective of this newly born baby, and he is protective of the beautiful people that are congregating around to see its beauty. More attention equals more danger. With loving eyes, I will be argus-eyed.
***
The Stoa has hosted over 300+ free events since the pandemic started, and it will continue to do so, but it could use your support to continue to do so with quality and integrity. Support The Stoa @ https://www.patreon.com/the_stoa