Chess Player
Hey beautiful people,
Tyson's "Flowing With Unknowingness" has been canceled tonight. It will be back next Sunday. His "Rap Unbattle" event is on tomorrow as well.
For tomorrow's "The Digital Porch" session with Daniel Schmachtenberger, please watch the first session if you plan on coming. Here it is:
Tomorrow's events:
An event to get excited about:
Impro: A Retrospective w/ Keith Johnstone. October 13th @ 1:30 PM ET. Click on the link to RSVP.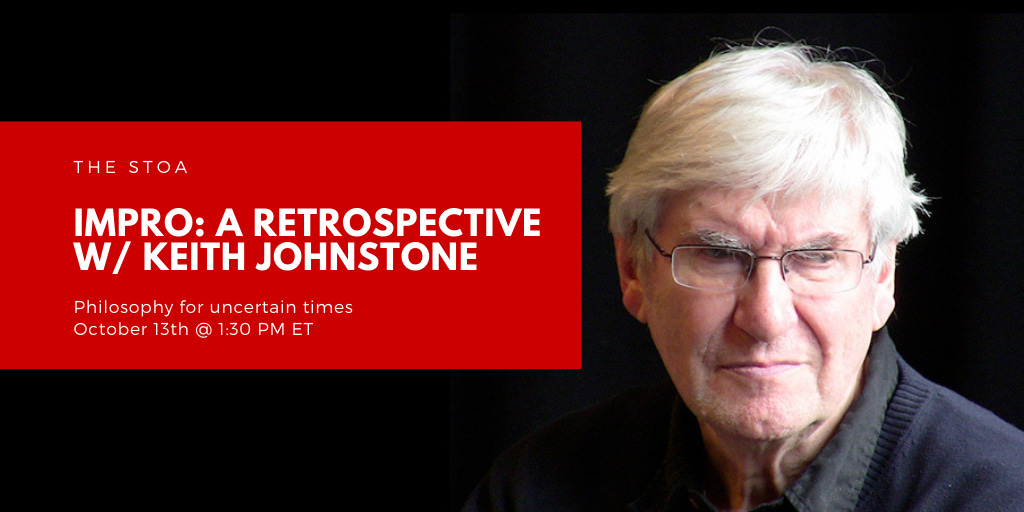 The pioneer of improv, Keith Johnston, visits The Stoa on Tuesday to discuss the legacy of his book.
***
October 11th, 2020
I was chatting yesterday with Hannah Robbins, who is the editor of these journals, and she was sharing some personal stuff, then stopped and said: I am not sure why I keep sharing my squishy insides with a chess player. I bought into the frame of the joke and joked back saying she is probably sharing because she senses I make loving chess moves.
The joke made me somewhat sad though, and it speaks to the hesitancy I am having sharing these journals. I have been sharing some edgy stuff recently, like me choking fools, but it is the sharing of my awareness of all this metagame stuff, such as power literacy and speaking the language of status, that is making me feel kind of lonely.
I am worried people will see me as some Machiavellian guy, who is engaged in social machinations. I am worried people will be wary, intimidated, and maybe creeped out. I am worried they would not want to engage with me, or The Stoa, and feeling into all of this is making me feel lonely.
Yes, I have read Machiavelli, and Sun Tzu, as well as the shrewd maxims of the likes of Baltasar Gracián and François de La Rochefoucauld. I have also read modern writers on power like Robert Greene, and books on persuasion and pick-up artistry, as well as everything I could find on human nature. 
I am too lazy at the moment to signal that I may not believe in astrology, but as I said before I am a double Scorpio, and I fit the archetype pretty well when it comes to power. It is often said they are the most powerful sign, and they have a certain reputation amongst people who take astrology seriously. They are ruled by the "planet" Pluto, which is apparently the planet of power and control.
My mother was really into astrology, and through her I got into it when I was young, so maybe this is a case of the looping effect, but I always identified with this sign. I always felt an innate power literacy. When I was young I was sniffing out the power dynamics in the room, and I was sensitive not to put myself in positions of powerlessness.
Just like status is a language, so is power, and it is a language you are already speaking, and you can learn to speak it better. I sense most people pick up on power dynamics, even if they are not conscious of it.
If you're not conscious of it, you can learn various heuristics, such as the principle of least interest, which states that the party who is least interested in the relationship has more power in it. You can study "power chronemics," which is about how power and time intersect, e.g. powerful individuals usually make you wait longer for them, take up more time talking, and have more control of their own time.
It would also be good to study up on the techniques of narcissists. Sam Vaknin is good for this, who I spoke with before. The tricks of the trade of the narcissist are good to learn, in order to protect yourself against them. These include gaslighting, love bombing, silent treatment, social undermining, and emotional blackmail via FOG, aka fear, obligation, and guilt.
I am aware of all of this shit, and being aware of it helps you spot the hungry ghosts rather quickly. Now I've examined before, in many private journals, why I have an innate sensitivity and proclivity towards this stuff, and I think it boils down to this: I am afraid of being dominated, and getting my heart broken.
It could probably be divided into a male/female thing: I do not want to be dominated by another man, and I do not want to get my heart broken by a woman. I have been beaten up before though, and I have had my heart broken as well. It does not feel good at all, but it did serve as a character building opportunity.
But there is something deeper than being dominated and heartbroken, and it is what happens after those things happen: being left alone.
I do not want to be alone, at the heart of it, and I do not want to be lonely. I do not want people to leave me, and stop loving me. I do not want to be unlovable, which I felt like I was for such a long period in my life, and it really sucked. I do not know if you feel what I am feeling right now, but I sense some of you do. It is open right now, this lonely heart, of this ridiculous steward, and his eyes are getting a little wet.
All of this is to say, when I saw Hannah's joke that I am a chess player, I felt into the depths of it, and at the bottom of this power stuff is this: a little boy who wants a friend. I rescued this boy in the summer, and I have been enjoying getting to know him better. He is so fucking sweet. 
I do not even know why I am writing this. All of this is so weird, and vulnerable. Maybe why the daemon is asking me to write, is to encourage me to show you all the weapons I have, and put them down in front of you.
Here is my sword, my bow, and yeah, here is my shield. I place them on the ground, and stand in front of you, in a way that allows you to feel into my loneliness, so you can feel into yours. 
We are all lonely sometimes, and that is okay. The inner boy or girl we forgot long ago, keeps failing their way to communitas, again and again. I am optimistic though, because I am here now, lonely with you.
***
patreon.com/the_stoa