Core Challenges
Tomorrow's events:
The Hollow w/ Bonnitta Roy. October 9th, 16th, 23rd, and 30th. 10:00 AM ET. RSVP here. 75 mins.

Socratic Social w/ The Stoa Village. Every Friday @ 7:00 PM ET. RSVP here.
Newly posted events:
Bespoke Psychotechnology w/ Christian Sawyer. October 24th @ 4:00 PM ET. RSVP here. 90 mins.

Theory U w/ Otto Scharmer. December 15th @ 6:00 PM ET. RSVP here.
An event to get excited about:
Communitas Club: Series Launch w/ Margaret Amenyo and Peter Limberg. October 13th @ 5:30 PM ET. RSVP by clicking the image below.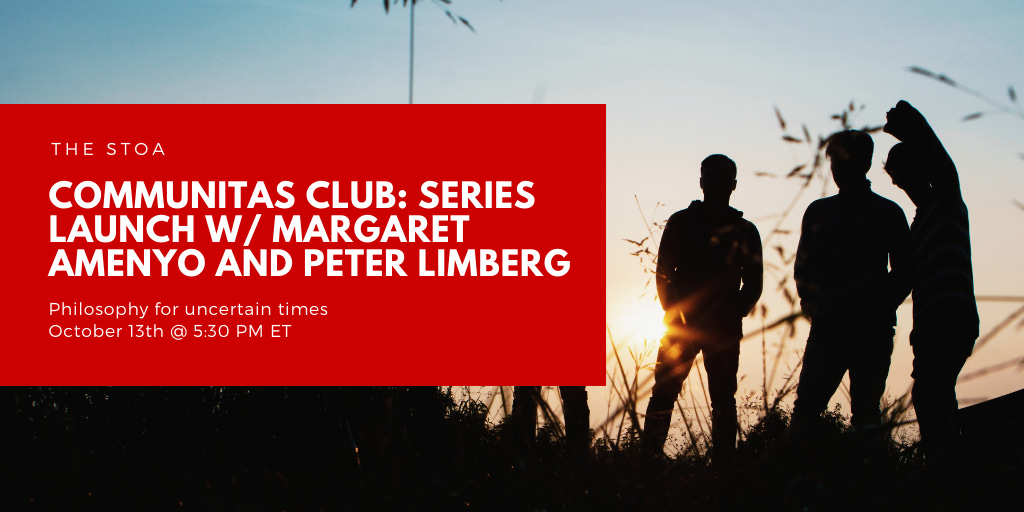 Margaret and Peter launch a new series called "Communitas Club." This series will explore various conversational and intersubjective modalities. Join us for the series launch to help us design this exploration.
***
October 8, 2020
Daniel Schmachtenberger is launching something called the "Consilience Project," which he mentioned at his recent appearance at The Stoa. It is a project that is attempting to create a "transpartisan media and collective inquiry in the public sphere," with a goal of "restoring the epistemic commons." 
It is a pretty awesome project, and one that I am supportive of. Daniel sent me the project overview document last month, which included a "failure possibilities and solutions" section. Basically, all the bad shit that could happen, and what to do about it. 
That got me thinking: man, maybe The Stoa should have something like this. Besides all of the nebulous attractors here, and cartoonish catch-phrases like "stealing the culture," there really are no goals.
The only personal goal I have here is to reach 5k via Patreon. This goal is in service to my doing this full-time, and ideally to provide for a family, without worrying about going back to a normie job. 
I am treating Patreon as if it were an actual patronage, and not in a way that turns The Stoa or me into a product, which the tiered structure on Patreon encourages. From wikipedia: in the history of art, arts patronage refers to the support that kings, popes, and the wealthy have provided to artists such as musicians, painters, and sculptors.
Instead of individual wealthy people supporting me, I view this as a "decentralized patronage." It is probably right to view stewarding a digital campfire as an artistic expression rather than anything else. If people are digging what I am doing with the daemon, and they want to support me for that, then they can do so, and people are doing so. I am moved by the beauty of my livelihood being supported by goodwill, rather than some transactional exchange. 
This all being said, I do not really have any goals beyond the Patreon one, and I am not even holding onto that one tightly. So it is tough for me to think of failure possibilities, especially when I have the proclivity to reframe any difficulty as an opportunity to practice my Stoicism.
Good Stoics do their negative visualizations though, and it is probably good to be more sophisticated about all the bad shit that could happen here. Luckily, somebody kindly sent me a very thoughtful email recently, outlining all the core challenges he thinks The Stoa has. 
They all felt pretty accurate, so I will list them here and summarize what he said...
1) Unhealthy parasocial relationships. By exposing myself in the way I am exposing myself I will attract lonely souls who will feel a desire to confide in me. This will be overwhelming at some point, and when I do not acknowledge someone, they will feel rejection, and as he put it, "rejection will breed dark forces." 
2) Getting egoically hijacked. More attention will come with more accolades and criticism. Both have egoic hijacking potential. 
3) Memetic tribal colonization. I am very sensitive to this, given my understanding of the culture war. I do not want this to become a place where one has to "virtue signal" wokeness, and I do not want this place to be a reactionary haven. The person who emailed me observed that at the moment we have more speakers represented from the left but their tribalism is largely non-expressed or non-aggressive. He suggested that if I continue to delegate, other people may cave into virtue-signaling pressures, which could steer the ship into tribal waters. 
4) Being defined by the spectacle. If this place gets the attention from legacy media, and lame Blue Church journalists start writing about it, their normie framing will have undue influence on this place. 
I would also add a "hungry ghost" category. People who have a psychological schema that inspires them to take from what is beautiful. 
I imagine there are more challenges here, but this seems like a pretty good list to start. Writing this out is making me feel into why I have not moved away from this place being a "one-man administration" operation.
I do allow many people to facilitate here, and I encourage them to test out many things that feel alive for them. I intuitively trust these people though. Basically, I feel into their access to the daemon and the daemon gives me a wink. 
I have not released administrative controls however, probably because I sense I'll have to think about all of these challenges more if I do so, and at the moment, I am not convinced that I have to do so. 
There is no business model I have to update, there is no administrative team I have to manage, and there are no shareholders I have to please. All of this stuff would feel like a headache, and if I "scale" and become more institutionalized then these challenges will become more of a risk.
At the moment, I am digging the frame that I am doing art here. Maybe I am an artist of communitas at The Stoa, and maybe I am an artist of the intrasubjective here with these journals. I also think that in this liminal state we are collectively in, doing artwork is one and the same as doing spiritual work.
***
patreon.com/the_stoa