I Pick Up the Piece
Tomorrow's events:
Newly posted event:
Entrepreneurialism as a Spiritual Practice w/ Derek Sivers. October 20th @ 6:30 PM ET. RSVP here.
An event to get excited about:
The Smart Village w/ Euvie Ivanova & Mike Gilliland. September 15th @ 6:00 PM ET. RSVP by clicking the image below.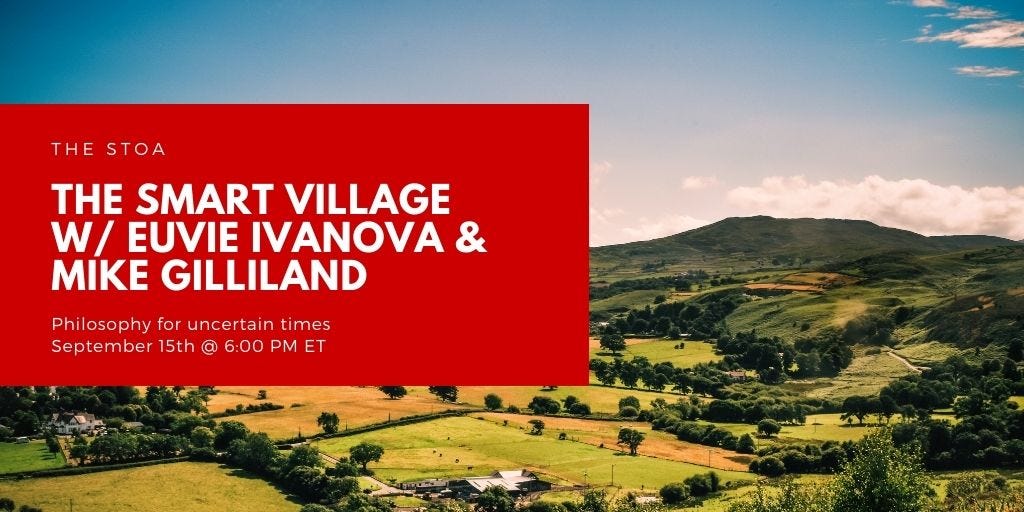 Euvie and Mike from FutureThinkers visit The Stoa on Tuesday to discuss their new project: The Smart Village!
***
September 13, 2020
I pick up the piece.
That is what we say at Collective Presencing every Friday when somebody wants to speak. After they are finished speaking they say "I put down the piece." This verbal passing of turns originated from in-person sessions, when there was an actual piece to pick-up.
I think Collective Presencing has been going on for 20 straight weeks now at The Stoa. Ria Baeck discovered the practice, and it is a wonderful practice. I often say it is the "heartbeat of The Stoa," and Ria has become the wise matriarch to our digital village. 
After check-ins, the question the group asks each week is this: In this pause, as together we actively lean into our potentiality, what is it that we glimpse? Someone who feels "called" unmutes themselves, picks up the piece, and speaks what—in the here and now—wants to be spoken.
I still have the piece, and I am listening to "My Body is a Cage" by Arcade Fire, while drinking bad coffee, because bad coffee is the only coffee I have to drink at the moment. I am at my family cottage, with Camille. She is playing a puzzle, and light from the window is flickering on my computer screen in such a beautiful and calming way. Then the chorus drops:
My body is a cage that keeps me
From dancing with the one I love
But my mind holds the key
I am so impatient. When I am in these Collective Presencing sessions, and similar "intersubjective practices," I am waiting for the show to start. I am waiting for us to recognize what is right in front of us. 
A glimpse: a brief, incomplete view or look. That is the definition I found and I do not want to be defined by that. I do not want any more fucking glimpses. I want you. I want us. I want communitas. And I want it now. I become aggressive, and I want to punch my way to it. We are in 2020, and shit is real, and it has hit the fan. Are we going to just look at the spectacle slack-jawed, while the world is literally burning?
I want to set my self on fire alongside it. I want my spirit to be free, and I want yours to be free as well. This Arcade Fire song is landing. My body, and all the trauma it is lugging around, is feeling like a cage that keeps me from dancing with you.
Yesterday, in the midst of feeling silly, while playing Laurence Currie-Clark's "Glass Bead Game" at The Stoa, an insight occurred: a new world is not created without practice. Playing these strange games, ones that seemingly have no home in our late-stage capitalistic world, offers us the chance to build our intersubjective muscles.
It is the chance to feel into the complexity and the entanglement of it all. During these practices we all tend to start talking like Bayo Akomolafe, and that is a good thing, because Bayo only talks poetically. These glimpses we see, together, is our practice. These glimpses will soon turn to glances, and the glances may one day turn to lovestruck gazes.
I will take a deep breath and I will give myself a moment... I am feeling into the impatience, which is melting away, and I am now feeling the presence of a promise. This is a promise of you, of us, of communitas. The coffee is still bad, the light still flickers, and the puzzle is still unfinished.
I put down the piece.
***
The Stoa has hosted over 300+ free events since the pandemic started, and it will continue to do so, but it could use your support to continue to do so with quality and integrity. Support The Stoa @ https://www.patreon.com/the_stoa