Vanishing Mediator
Tomorrow's events:
Stoic Breath w/ Steve Beattie. Everyday Sunday @ 10:00 AM ET.RSVP here. 

The Dangerous Space w/ Arielle Friedman. September 13th @ 3:30 PM ET. RSVP here.

Raw Mortality w/ Cody Taft, Isaias Ardaya, and Manus Duplessis. September 13th @ 6:00 PM ET. RSVP here.
An event to get excited about:
Neo-Nihilism: The Philosophy of Power w/ Peter Sjöstedt-H. September 15th @ 12:00 PM ET. Click on the image to RSVP to the event.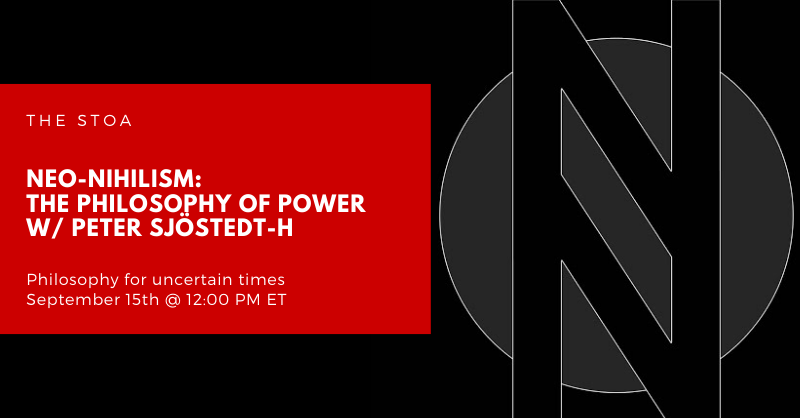 Philosopher Peter Sjöstedt-H visits The Stoa to discuss the philosophy of power from his book Neo-Nihilism.
***
September 12, 2020 
We rebranded Friday's "Socratic Speed Dating" event to "Socratic Social" because the title has become misleading; the event is not about dating. Raven Connolly and I created it to repurpose the speed dating format to encourage random platonic encounters. It has morphed to become the space where people at The Stoa village can gather, socialize and get to know one another over a deep question or two.
It was also Raven's last time hosting, and we will now be having a rotating host every week. She is taking a break from active facilitating duties. Portland, where she lives, has become an absolute shitshow, and she needs some space to figure out what her next move is. She has been doing this session every Friday for 5 months now. I am very grateful for the blackbird, and all the magic she has brought to The Stoa thus far.
Last night's session was sweet. It was also nice seeing familiar faces there, like Tyson Wagner and Raya Sun, who have been with The Stoa since the beginning. It made me reminiscent of those wildly liminal days, when COVID first arrived in our collective consciousness, and The Stoa emerged from the daemonic ether.
During the event I found myself in a breakout room with my boy Tyson, and he shared a cool thought about The Stoa—if it was a person, then it would be a person who could hold complexity. I never thought about anthropomorphizing The Stoa before, but it makes sense to do so, as I sense a lot of people are doing so. 
A few people expressed that being in this space is giving them an opportunity to patiently listen to views they strongly disagree with. This is encouraging a greater awareness of their emotional triggers, which in turn allows for a processing of them. This is amazing. 
As a facilitator, how you hold a space is incredibly important, and maybe I have imbued this space with my Stoicism, along with my "performative agnostic" ability my Stoicism affords. I would not be able to cooly analyze the culture war without this ability, and maybe this ability is being transferred to The Stoa itself, which then is being transferred to the regular attendees. 
Being at The Stoa is cognitively trippy. As the steward of this place, I am being bombarded by all these awesome ideas, from all these different perspectives, which is building all these new connections.  One session that is the embodiment of this, which is a session I am immensely enjoying, is Peter Wang's "Sensemaker in Residence" series about Mental Models.  
The session he had yesterday on relationships was awesome. So many insights for me were emerging during it. The cool thing about thinking with mental models, is that there is this cascading effect, where thinking deeply about one, leads to thinking about many others. 
One mental model that arose in my mind while listening to Peter was that of the "vanishing mediator." This one gets really meta: this is a concept that is about a concept that acts as a "mediator" between opposing concepts. The concept only needs to exist long enough for an interaction to occur, then it can "vanish." In terms of an actual disagreement, a vanishing mediator is something that gets two people, or two tribes, to the dialogos table, then it can disappear. 
I use the "vanishing mediator" method in my private journaling all the time. When I am wrestling with a personal issue—one that makes me feel "stuck" and seems impossible to resolve—gets resolved only when I use a concept, or make one up, which creates an existential opening, and allows two subpersonalities to meet. I usually forget about the concept afterward, as it is no longer needed.
I wrote before about how a good memetic mediator needs to be able to code-switch, and create ad-hoc perspectival pidgin languages, which is about strategically using and repurposing terms that various memetic tribes themselves use. I would also say that a good memetic mediator needs to be able to create new concepts, ones that set the frame to encourage a meeting between two different people.
Luckily The Stoa has a psychotechnology for that. Nicolas Benjamin, also known as "the most interesting man at The Stoa," has developed something called "Concept Unfolding," which he introduced at The Stoa a few months back. It is a brilliantly designed modality that flexes one's concept creating muscle.
Having the capacity to learn about many worldviews, and the concepts used to support them, then being able to unfold new concepts from existing ones—while using these concepts in a way that helps mediate between opposite concepts, people, or tribes—can happen only if complexity is held.
I wonder if a person can be a vanishing mediator. Maybe I am one, or this anthropomorphized version of The Stoa is one. One needs to be untethered from ego to vanish when it is most wise to vanish. Staying around longer than needed hurts more than helps.
I received this comment recently: Right now it's my belief that The Stoa is the current torchbearer of Game B and sensemaking. I sense this as well. In order for us to continue to hold this torch though, we will need to stay nimble, nebulous, and ready to vanish at a moment's notice.
***
The Stoa has hosted over 300+ free events since the pandemic started, and it will continue to do so, but it could use your support to continue to do so with quality and integrity. Support The Stoa @ https://www.patreon.com/the_stoa